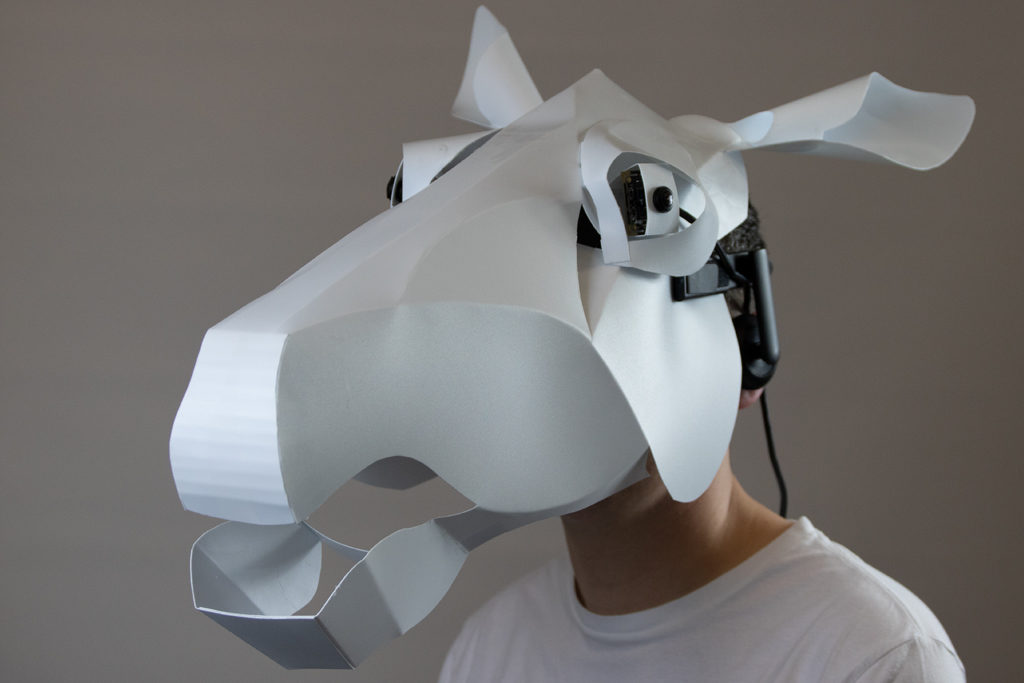 "Alternative modes of research can open new avenues to explore complex social, cultural and political issues such as anthropocentricism, our cultural biases towards anthropomorphising other species and our relationship to nonhuman animals. This project uses designing, prototyping, iterating and making as a mode of exploring, generating and situating new knowledge about our relationships with animals and how we might design for and with them. The prototypes work as a counternarrative to more positivist approaches to the generation of new knowledge about nonhuman animals. This project draws on a number of research disciplines to create hybrid strategies which prioritise experience over language and offer potential models for other researchers in disciplines such as ACI tools (or toys) to promote new engagements with design practice and interspecies intersubjectivities."
(Hook, 2019:161)
Equine Eyes is a Speculative Design proposal which explores methods of understanding how nonhuman animals experience the world. The headset simulates horse sight to help the wearer experience nonhuman vision and propagate interspecies empathy and understanding. The headset is designed to explore an 'interspecies inter-subjective subjectivity' or build our understanding of how nonhuman animals experience the world.
The headset takes two live camera feeds, from two 180 degree cameras, into a computer which removes all o fthe red spectrum, and renders them into a VR headset. The field of view is overlapping at the front of the headset which gives the wearer 350 degree field of view and a dichronic colour range to mimic horse sight.
The project has been presented internationally at a number of national and international conferences, symposium and events:
Hook, A. (2019) "Exploring Speculative Methods: Building Artifacts to Investigate Interspecies Intersubjective Subjectivity." Alphaville: Journal of Film and Screen Media, no. 17,  pp. 146–164. DOI: https://doi.org/10.33178/alpha.17.09. 
Hook, A. (2019) Speculative Methods for Interspecies Design, Imagine! Belfast Festival, Futureproof: Real Research in a Virtual World, Ulster University (UK) https://imaginebelfast.com/events/futureproof-real-research-in-the-virtual-world/
Hook, A. (2019) The Politics of Interspecies Design, Technology, Culture and Politics Workshop, Ulster University (UK)
Hook, A. (2018) Designing Empathy: Understanding Nonhuman Animals Falmouth University https://www.eventbrite.co.uk/e/alan-hook-presents-designing-empathy-understanding-non-human-animals-tickets-52810377260 
Hook A. (2018)  Speculations on the Human and Non-Human Animal Through Play Playful Encounters (CHN) https://www.nottingham.edu.cn/en/internationalcommunications/playful-encounters.aspx 
Hook, A. (2018) Exploring the Borders Between Human and Non-Human Animals. TEDxBallybofey (IE) https://www.youtube.com/watch?v=qMnUKrArrlo
Hook, A. (2018) Speculations on the Human and Non-Human Animal. Film and Screen Media Creative Practice Symposium (IE) https://www.ucc.ie/en/media/academic/filmstudies/files201718/CreativePracticeSymposiumMay2018.pdf 
Stadon, J. & Hook, A. (2017) Oblique Strategies for Mixed Reality Art, VSMM2017 International Society on Virtual Systems and MultiMedia http://vsmm.org/workshops/
Hook, A. (2017) Inter-Species Play as Speculative Design, If You Weren't: Playing with Realities in ARG, AR, and VR, Stanford University (US) http://www.ifyouwerent.org/